Welcome to Ella's Day Care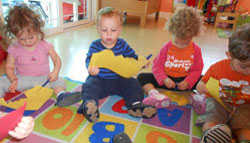 Where we provide a safe, loving environment for children from ages 1-4 years old.
We are open from 8:00am to 5:30pm Monday through Thursday and 8:00am to 4:30pm Friday.
We provide nutritious breakfast, daily fresh homemade lunch, and snacks.
We have variety of activities; circle time, art, story time, singing, dancing as well as music, gymnastic/yoga, and animal lessons by outside teachers.
Our facility is gated and secured, safe, clean, and hygienic.